Error

XML Parsing Error at 1:252. Error 4: not well-formed (invalid token)
Error loading feed data.
History
Oatmeal, the second oldest town in Burnet County, Texas, was reportedly named for a German family called Habermill (a German name derived from Haber meaning 'oats').

Timeline:
1849: Habermill family settled in the vicinity of the headwaters of Oatmeal Creek

1853: The Oatmeal Post Office was established

1858: The Oatmeal school house was built

1869: A second school house was built (a historical building since 1990 and used as a church today)

1871: A cemetery plot us deeded, although already used as a burial location since 1854
After the Civil War, freed slaves settled in the Oatmeal area and created an all black settlement called Stringtown. They established a cemetery of their own and a school house. The settlement had disappeared by the 1920's, but the cemetary remains and is located on private property.

Oatmeal had the first orchard in Texas and the first and only cheese press.
The Austin and Northwestern Railroad was constructed to ship granite from Marble Falls to Austin to be used in building of the State Capitol building. The new railroad passed through what is now Bertram. Granite fallen from the train in transit was gathered up by residents and used as fascia for several of the buildings in the new town.

The priciple stockholder of the Austin and Northwestern Railroad was Rudolph Bertram. In 1882 Bertram purchased 40-acres adjacent to the railroad tracks and aubplotted the acerage for a town he named Bertram. In June of 1882, A train filled with potential buyers came in and bought 70 lots (unknow how many where actualy available).
In the late 1880's when many from the town of San Gabriel moved from the old town's location to the new town of Bertram, the widow Mary Hart went missing.
Mary Hart's story was somewhat tragic, even for the times. Married thrice, Mary's many husbands always seemed to meet a tragic end. At the time of the San Gabriel move, Mary had been widowed from her third husband less than 6 months. Her small house was to be taken from the site her husand built it on to just outside of the new town of Bertram.
In early 1900, stories of large dogs or wolves began to surface with the townsfolk of Bertram and the surrounding communities. Soon after, a small group of rail workers simply disappeared. Could it be the wolves?

These stories in Bertram are not surprising as stories of the Converse Werewolf had started back in the 1880's South of Bertram in Bexar County.

Bexar county is known as old time ranching county. and since ranching is nothing less of tough and often dangerous work, being strong and confident was next to having a good horse. You needed to be strong. In other words, you had to be a real man.
The Austin and Northwestern Railroad began construction in 1881 and completed it's route from Austin to Llano in 1903. By 1934, the Texas and New Orleans Railroad had absorbed the line. railroads in the US were rapidly expanding, gobbling up coal minning, iron and other supporting industries. Engineers, shop men and other skilled railroad workers were well paid; but impoverished and unskilled immigrants and African Americans received low pay for the most physically demanding and dangerous work.

During the span of time between the completion of the ANR and it's inclusion in the TNOR, railroad works maintained the tracks and depots along the route from Austin to Llano. By 1900, there was more than 195,000 miles of railroad in the us.1 These miles and miles of rail were often maintained by transient groups of workers, following the rail lines and working as needed.
Purchase OTX Print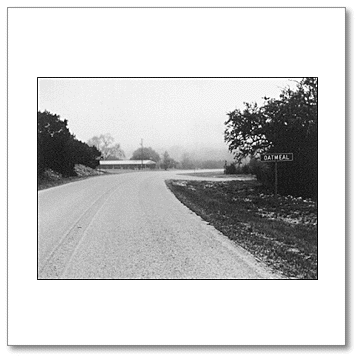 #88
Oatmeal, Texas

Oatmeal is a small Texas town about 40 miles northwest of Austin. The Oatmeal festival is held here every Labor Day weekend. A good picture for your kitchen.

Hasselblad 500C, 80mm lens
Ilford Delta 400 film
Copyright © 2000 by Kip Holm, all rights reserved.
Bertram Flyer 2010
The AST historic railroad operates vintage passenger cars pulled by a 1960 Alco Engine on 3 hour journeys to the town of Bertram.

Enjoy the sights and sounds of the railroad as you cross highways, span the South San Gabriel River, and roll through pastureland. Then step off in Bertram for a 15 minute layover to tour a fully restored 1912 train depot!